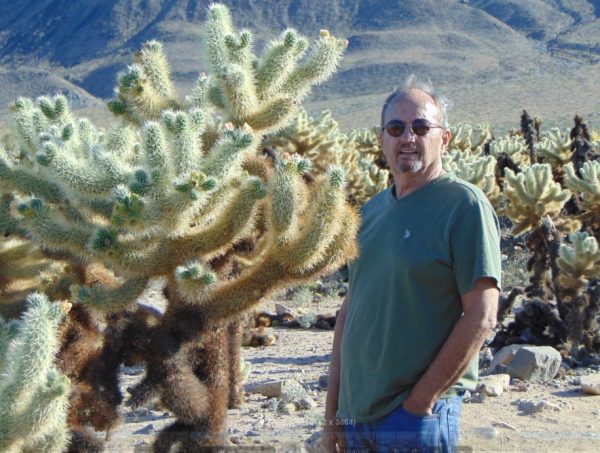 the artist at Joshua Tree National Park, California
Celebrating 50 Years of Painting…
About Mark
Contemporary Landscape Artist Mark Bowles was born and raised in the San Francisco Bay Area of Northern California. Mark's passion for interpreting what he saw brought him to his studies at the College of Arts and Crafts in Oakland California. There he completed his studies with honors along with a limited stay at Institudio Allende in San Miguel de Allende, Mexico. It is this dedication and passion for his art that has allowed his work to grow and move forward and stay fresh and new.
Whether he is working with a still life or landscape, Mark is always fascinated by line, texture, form, and color. He does not limit himself to what he paints or how he might interpret what he sees. It's the rapport with the canvas that this freedom allows Mark to walk the line from representational to minimalist to abstraction.
By exploring color, composition, the quality and attitude of a line, Mark's goal is to draw his viewer into his paintings and let them become involved in their personal journey and discovery of his work. He paints with an intent to address the canvas directly, honestly and boldly.
While remaining dedicated in his professional career for 50 years, Mark continues to live and paint in Northern California and regularly travels throughout the West and Southwest for inspiration in the landscape and nature.
Embassies
American Embassy Katmandu, Nepal
American Embassy Mexico City, Mexico
American Embassy, Port Louis, Mauritius
Private/Public Collections
Anheuser-Busch, Inc.
Brazilian Court, Palm Beach
Ceebraid-Signal Corporation
City of Fairfield, California
Downey Brand law firm
GenCorp – Aero Jet
Kriess Collections
Marvin Windows
Massachusetts General Hospital, The Lunder Building
Ritz Carlton, Lake Tahoe
Wareham Development